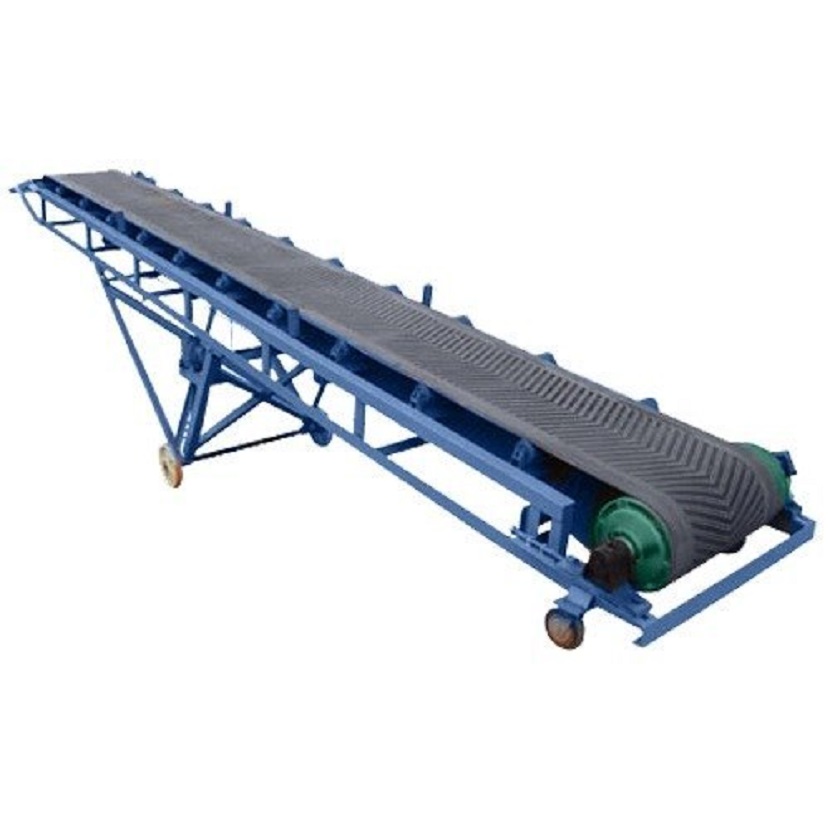 Conveyors for material handling are frequently used in automated industrial systems generally found with a material handling belt conveyor supplier. They transport parts throughout the warehouse floor, from platform to platform, and even through additional automation machines, safely and efficiently.
Automated conveyors are perfect for when a company wants to deliver items without the use of humans. Determining which type of materials management conveyor is appropriate for your operations necessitates a thorough examination of the part, the production process's requirements, and the application's layout.
Types of Conveyors:
According to the abovementioned criteria, an automated equipment manufacturer might suggest a variety of conveyors. The following are among the more popular conveyor systems:
Belt conveyors, which consists of two or maybe more pulleys and unending loops of conveying belt rotating around them, are excellent for the simple conveyance of components or supplies without the requirement for part alignment. They are also known as a material handling belt conveyor.
This conveyor mechanism makes use of a chain that passes via an overhead track. Parts are attached to the chain and dangle from the ceiling. Because the component has the highest specific contact area whenever delivered with an overhead conveyor, it is suitable for automatic paint systems.
Precision Index Conveyors -
Fixtures keep parts in the right place while they travel on a precision index conveyor. This method allows for high-speed part transportation throughout the production process while also guaranteeing that the part is oriented correctly for other automation machines.
Over the conventional belt conveyor systems, complex technology is now applied in Industrial Conveyor Belts. Businesses choose sophisticated belts depending on their use. A plain metal belt, for example, would also not be able to manage stones that could be valuable or delicate. Conveyor belts are well-understood in the materials processing industry. They select belt conveyor technologies that are better, less tedious, and more efficient based on their uses.
The following are the most frequently applied Industrial Conveyor Belts and related implementations:
These heavy-duty general-purpose belts are widely utilised in industry. The qualities of the belt can be used to identify the belt's wide applicability. Rubber belts are frequently used in the mining and processing sectors to transport bulk commodities such as raw ore and debris. While PVC conveyor belts are employed in grocery shops, belts composed of Neoprene, polyester, even rubber are often used for luggage transportation at airport terminals.
Filter belts are often used in the water purification industry to drain surplus liquid or pollutants by allowing particles to escape through a filter rather than being transported by the conveying system.
These hinged belts are mostly used in businesses that handle junk and different tiny materials for processing. Metal is used to make these belts. The interconnecting hinges of such belts provide us with a flat, solid surface that spins across the pulley. Such belts are extremely durable and can withstand a lot of wear and tear.
These are mostly used in the foodstuff packaging and automobile industries. These belts are ideal for applications where belts are cleaned and replaced on a regular schedule. Plastic belts are a great alternative to fabrics and metal belts.
These belts are mostly utilised in businesses that deal with freezing, drying, and heating operations, such as food processing, electronics, and glass production. These belts are comprised of interconnected chains or wiring that allow air to move freely while the object is being transported.
Importance of Conveyors:
Conveyors in factory automation are used for a variety of functions and applications, spanning from production to assembly and distribution. The following are the primary reasons for the significance of conveyors in industrial automation:
In the materials management sector, various jobs in a process may need to transfer large objects in the line of manufacturing. A lot of labour is required and squandered in the operation of doing these jobs, and it adds little value to the production process. Furthermore, there is the possibility of human injury and death.
Improved Quality Control -
With the use of conveyors in industrial automation, it is possible to eliminate scrap, resulting in better quality control. It also aids in the identification of critical issues with the product, such as malfunctioning parts and unneeded metal. One can organise products for upcoming processes using an automated conveyor system.
Never presume that conveyors are rigid and stationary. Modular conveyors are extremely versatile and may be utilised in a variety of applications. Furthermore, they are quite simple to set up.
Because flexibility is essential, consider a customizable conveyor system, which allows you to adapt your conveyor belts to meet your specific needs and ultimately benefit you.
Final Words:
After you've decided on the right type of belt, think about how it may be cleaned, maintained, changed, or adjusted, as well as the costs involved. Again, this isn't meant to be a comprehensive list of conveyor belts; rather, it's a guideline to the most prevalent types now in use.